Reclosable Zip Lock Bags, also called Zipper Bags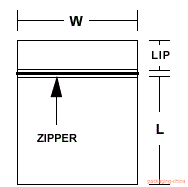 There are dozens and dozens of choices when it comes to reclosable zip lock bags. Flexible Packaging can get you any type you need, from the common, every-day bag to the highly specialized.
Flexible packaging can get you any thickness for your needs from 0.002MM to 0.020MM

Zip lock bags come in many sizes with various combinations of the following features:
Easy to print
Easy tear
Can be opened repeatedly if zipper is added, convenient to use, easy to store and good air tightness.
3 side seal or quad seal
Hang Holes
Stand-up
Open by the zip
Suitable for packing jelly, pet foods, detergent powder.
Custom sizes and custom printed zip lock bags are available.